Mahindra Thar.e Detailed Images Including Interior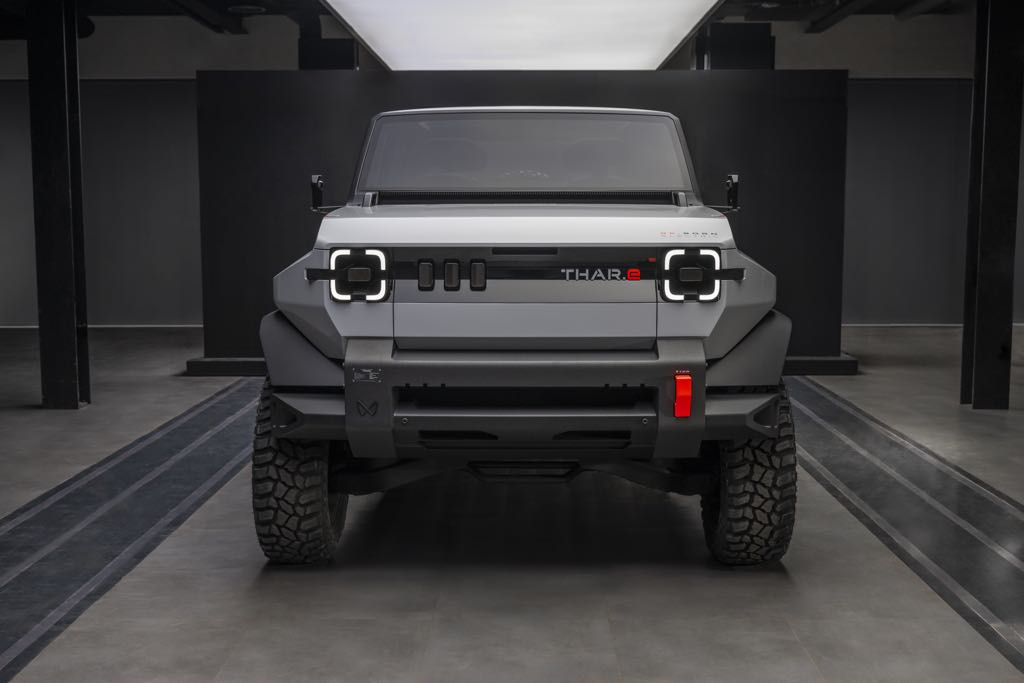 Mahindra Thar.e gets a completely new design direction
Mahindra Thar.e was revealed on the Independence Day along with the Global Pik Up concept at the carmaker's event in Cape Town, South Africa. Here are some more detailed images of the electric off-road vehicle.
If we hide that big bold Thar.e lettering on the nose, you won't be able to recognise the brand, forget the car. Mahindra has got rid of the Jeep resemblance with their latest EV concept of the Thar and has showcased the new design direction of the SUV.
It will not be based on the ladder frame chassis and instead will be underpinned by the new INGLO platform dedicated for EVs. It has a very geometrical patterns and elements to it, there is something Cybertruck-ish in the overall appearance of the vehicle because of the blocky design.
There is something interesting and unique about the Mahindra Thar.e, it is the modular design of the vehicle. The headlights and tail lights you see here are the same and swappable. The black fenders on all four sides have the same design. The side footsteps too are identical. Even the front and rear bumpers are exactly the same!
The concept version features some practical bits too like the roof mounts to install some accessories for your off-road adventure or long drives. There is a panel on the D-pillar which can let you clamp some accessories like jerry cans, tool box, storage box, etc. Considering the exposed hinges on the doors, we believe Mahindra might offer the option of removing the doors and even the roof.
The interior looks very futuristic with a minimalistic approach. It has grab handles on both ends of the dashboard, flat top and bottom steering wheel with a rugged look, large touchscreen infotainment system in the centre, wide all-digital instrument cluster, aircraft style gear selector, and very few buttons on the centre console.
Details on the specifications are not official yet but we believe Mahindra will offer multiple electric motor options with the Thar.e to offer 4WD capabilities and long range at the same time with a powerful motor under the hood.
Production version of the Mahindra Thar.e concept is still a long while away. For now, the Indian UV maker is concentrating on developing the 5-door version of the existing Thar which will go on sale by 2024.