Mercedes-AMG C63 Coupe Test Drive Review
We do a detailed road test review of the Mercedes-AMG C63 Coupe.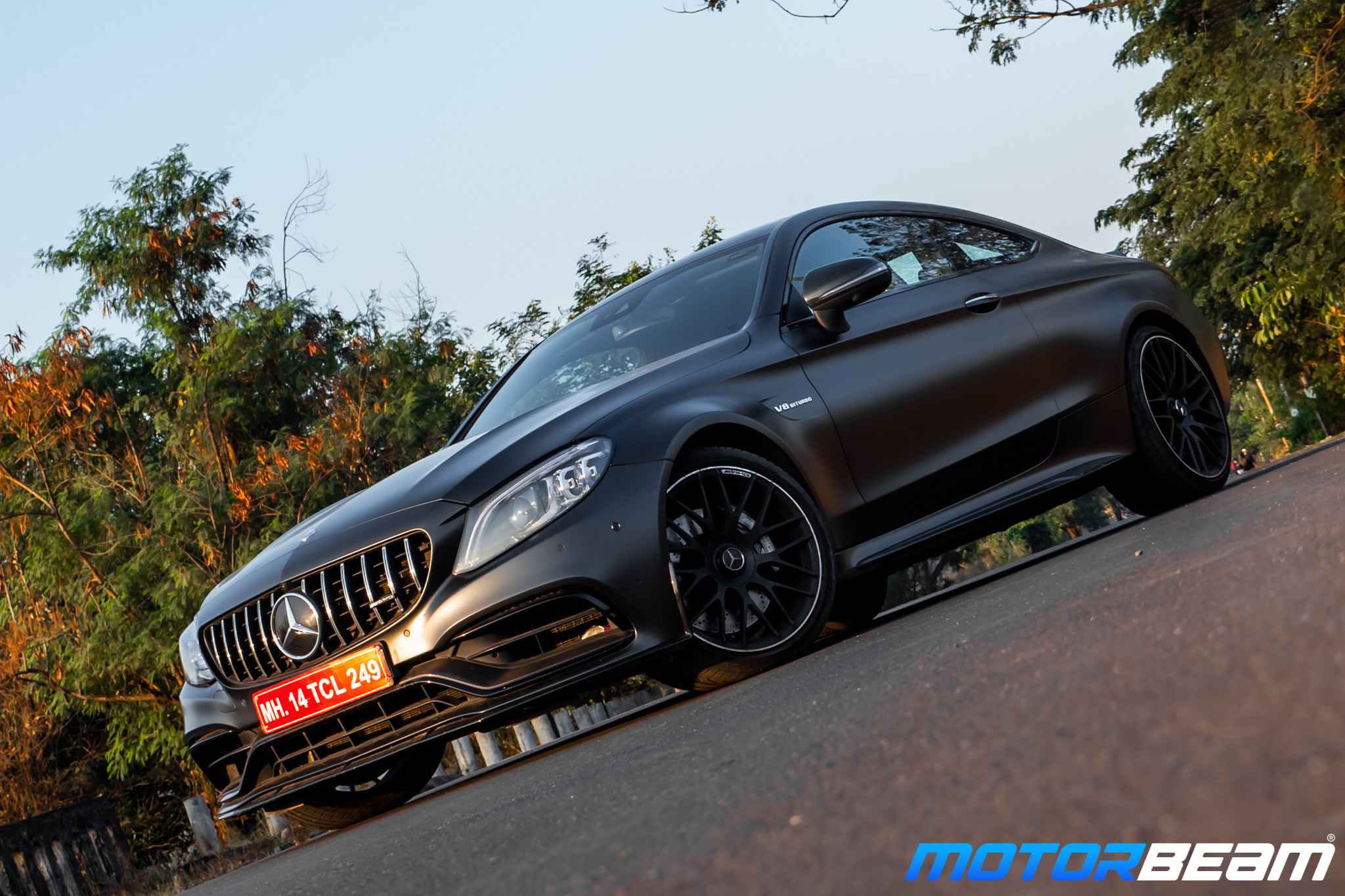 Mercedes-AMG C63 Coupe
Car Tested: Mercedes-AMG C63 Coupe; Road Test No. 1275; Test Location: Mumbai
Price OTR Mumbai: Rs. 1,57,99,044/-
Thrilling performance and exceptional ride & handling balance make the C63 Coupe a very dramatic car to drive
Sometimes I get quite livid on Mercedes. Their AMG models are so good, especially the 63 ones, that it becomes really difficult to get back to driving any other car after bidding goodbye to these V8-powered, full of character sports cars. One such car is the Mercedes-AMG C63 Coupe which we got around to driving only recently. This car brought back some really nice memories that I had with the C63 S sedan while going flat out on the ghats and the expressway back in 2016. But how different is the C63 in its coupe form? Well, all I can say is it has swept me off my feet.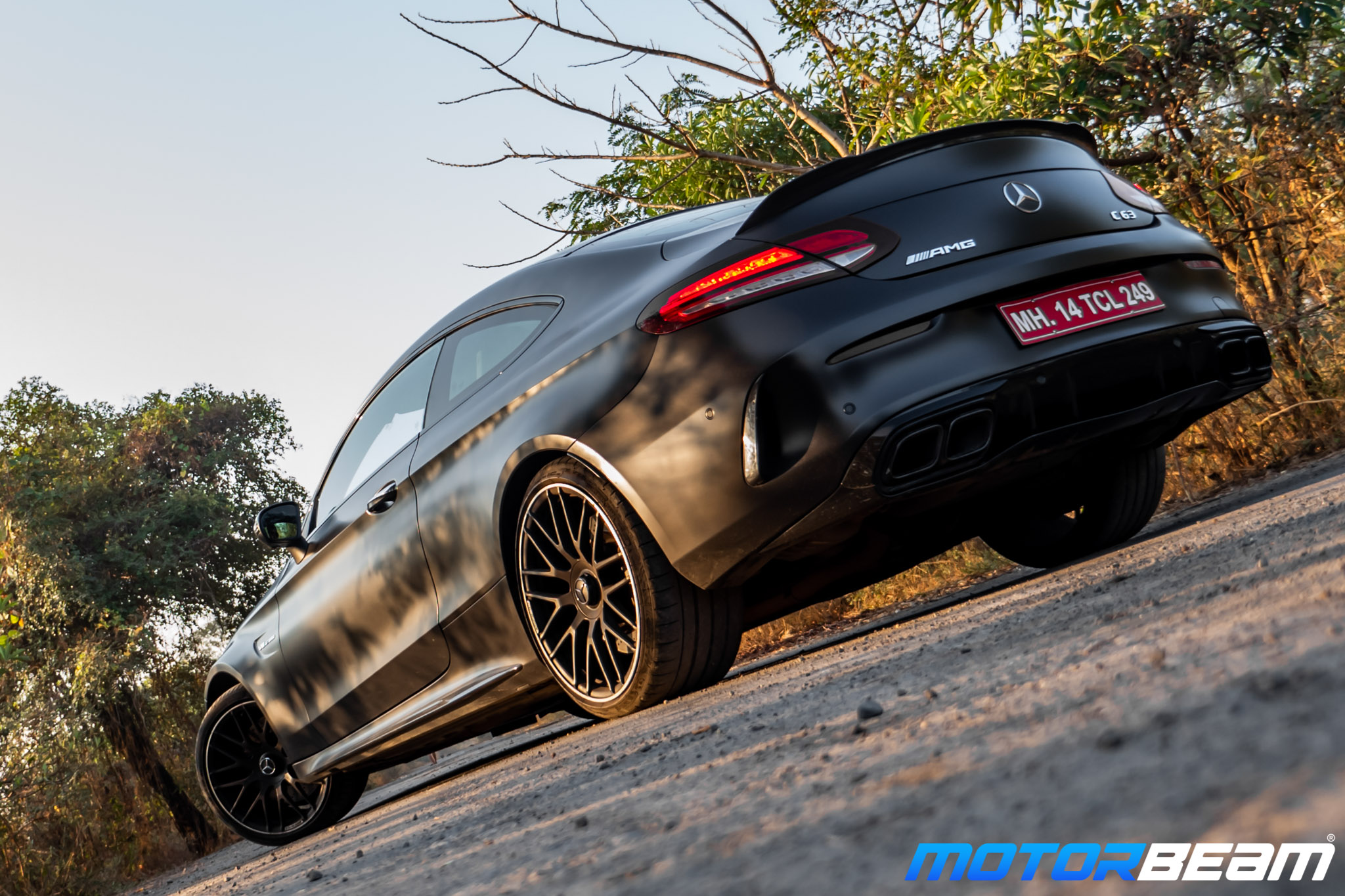 Exteriors – I am a big fan of sleeper cars and while the C63 S sedan was a great sleeper (it looked like a regular C sedan to a layman but could wake up the dead with its performance), the C63 coupe gets a 2-door body and our test car which was beautifully specced in Graphite Grey Magno with 19-inch cross-spoke forged AMG wheels certainly didn't look like a sleeper; In fact, it screamed of character.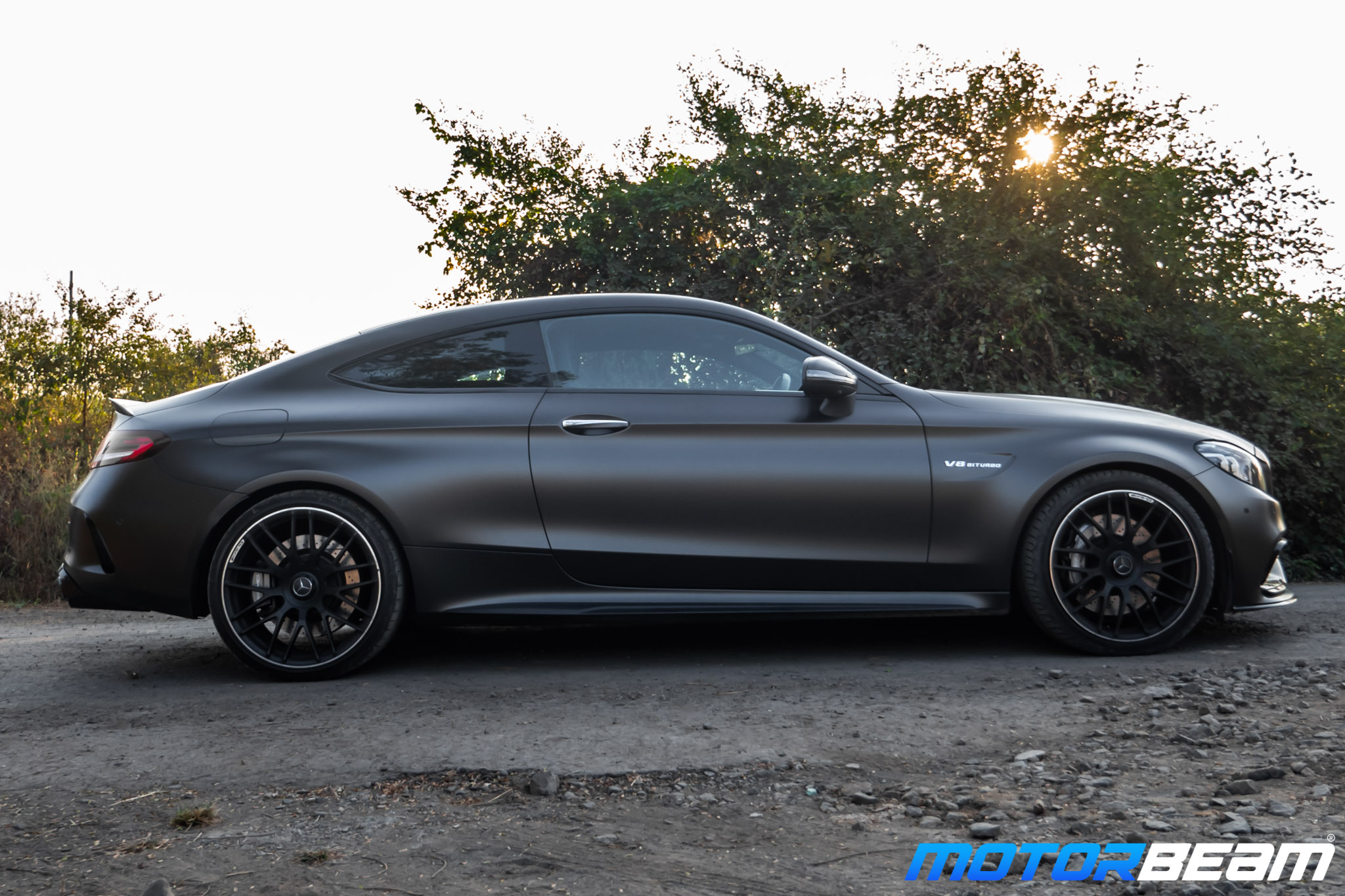 The C63 Coupe might look like a sleeper in standard colours, but in this spec it looks absolutely like a ninja on the move
The matte body colour comes at an additional Rs. 2.38 lakh while these wheels will set you back by Rs. 5.23 lakh. The test car was also loaded with the AMG Aerodynamics package (front splitter, diffuser and spoiler lip) which is priced at Rs. 3.47 lakh. Yes, there's a plethora of options available with the C63 and you can check all of them out at the configurator on Mercedes' website.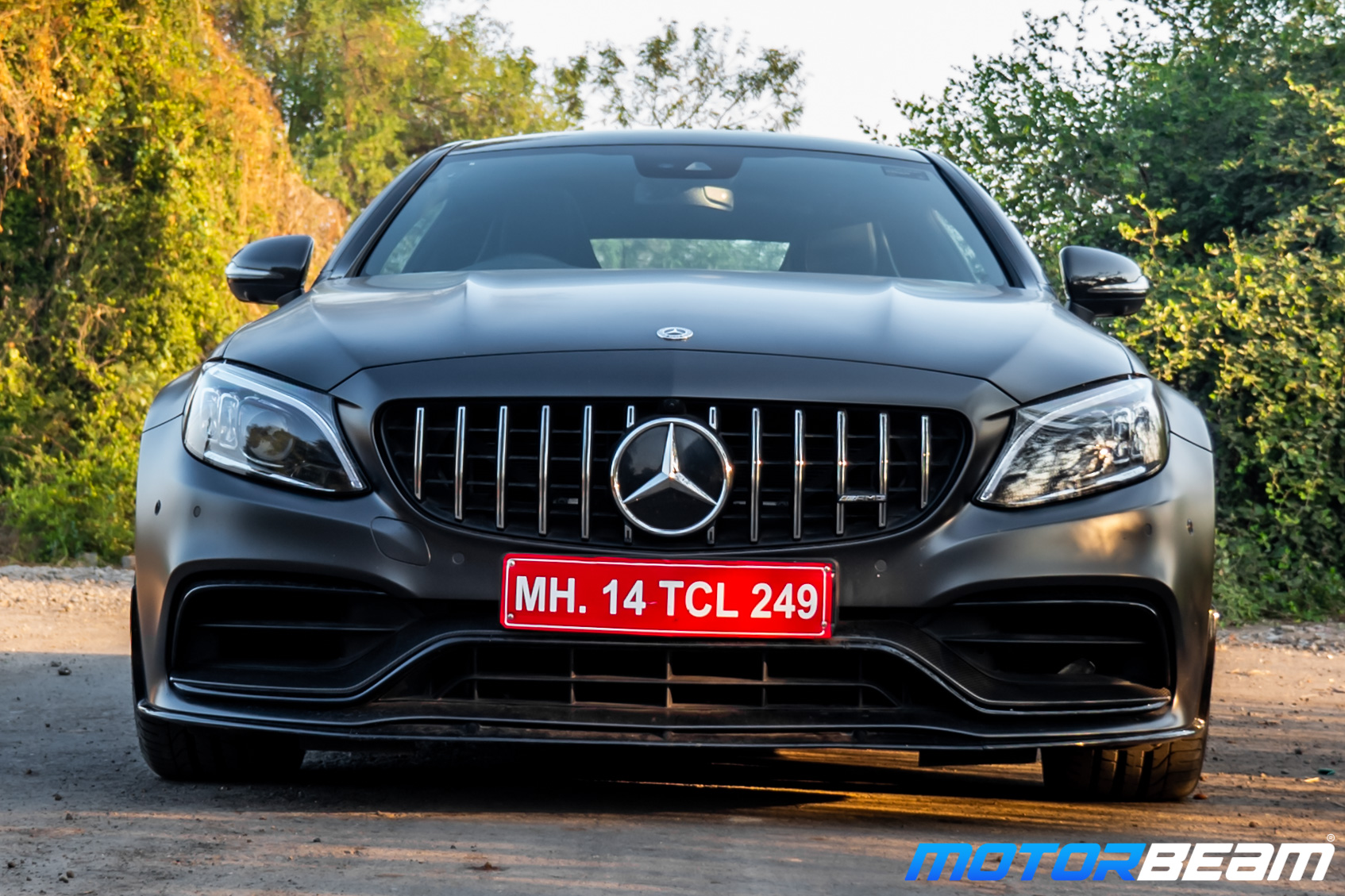 The Mercedes-AMG C63 Coupe is brilliantly proportioned and has a very wide stance. It draws eyeballs and Mercedes designers have nailed the coupe bodyline perfectly. Housing a V8, the bonnet is quite long and then the rear section merges smoothly with the cabin of the car. 18-inch wheels are standard while 19s and 20s are optional. The vehicle gets multi-beam LED headlamps with cornering function and in between sits proudly the Panamericana grille of the car since this is based on the facelifted W205. Overall, the C63 Coupe has a deadly combination of looks and road presence.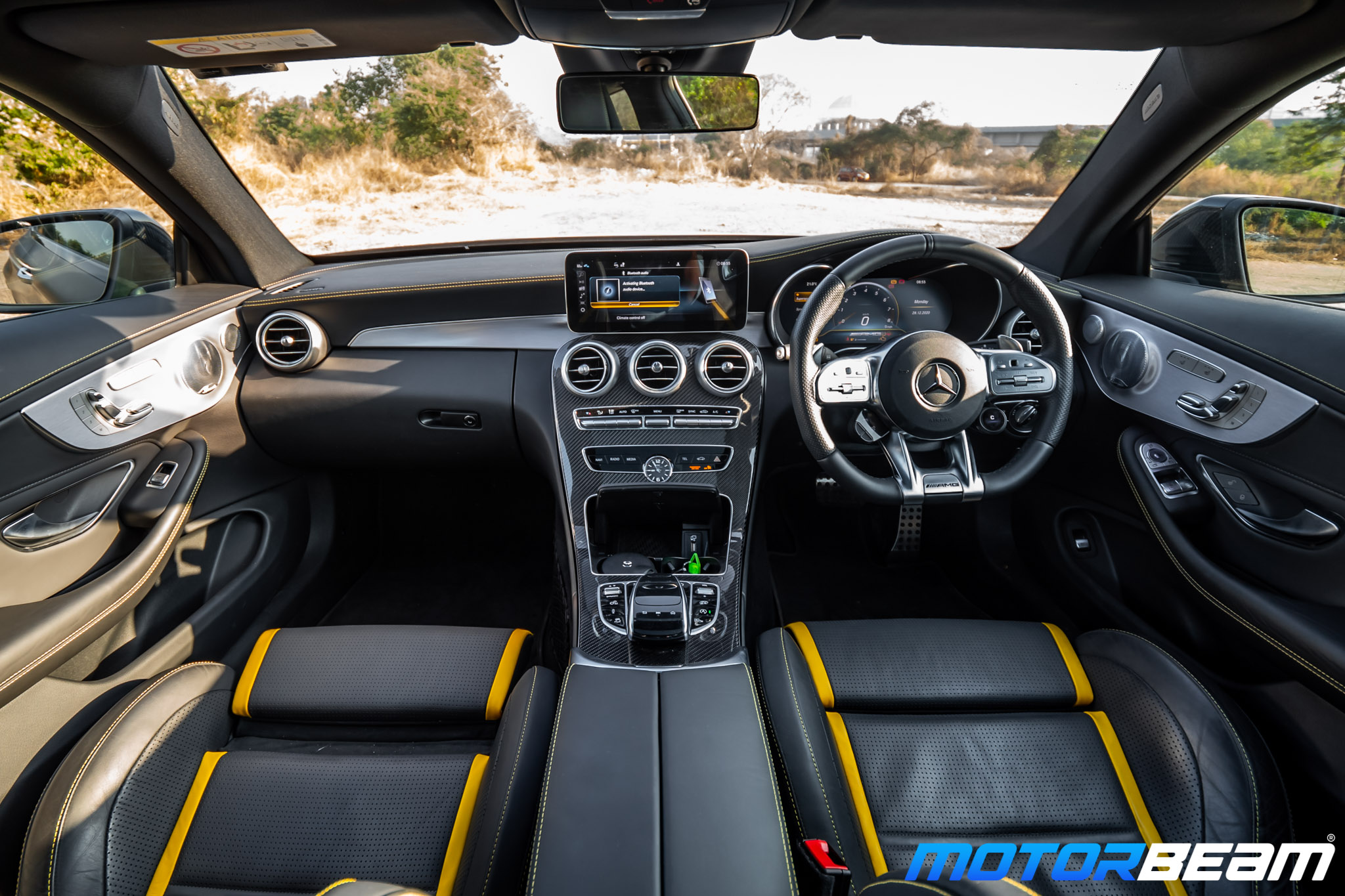 Interiors – The cabin design and the layout of the controls felt very familiar in the C63 Coupe. In typical Mercedes fashion, all the components and materials are rich in quality. The vehicle gets AMG Performance seats which have a memory function and there's also a 4-way adjustable lumbar support on offer. You also get an AMG steering wheel which is wrapped in Nappa leather and it gets silver inserts around the buttons.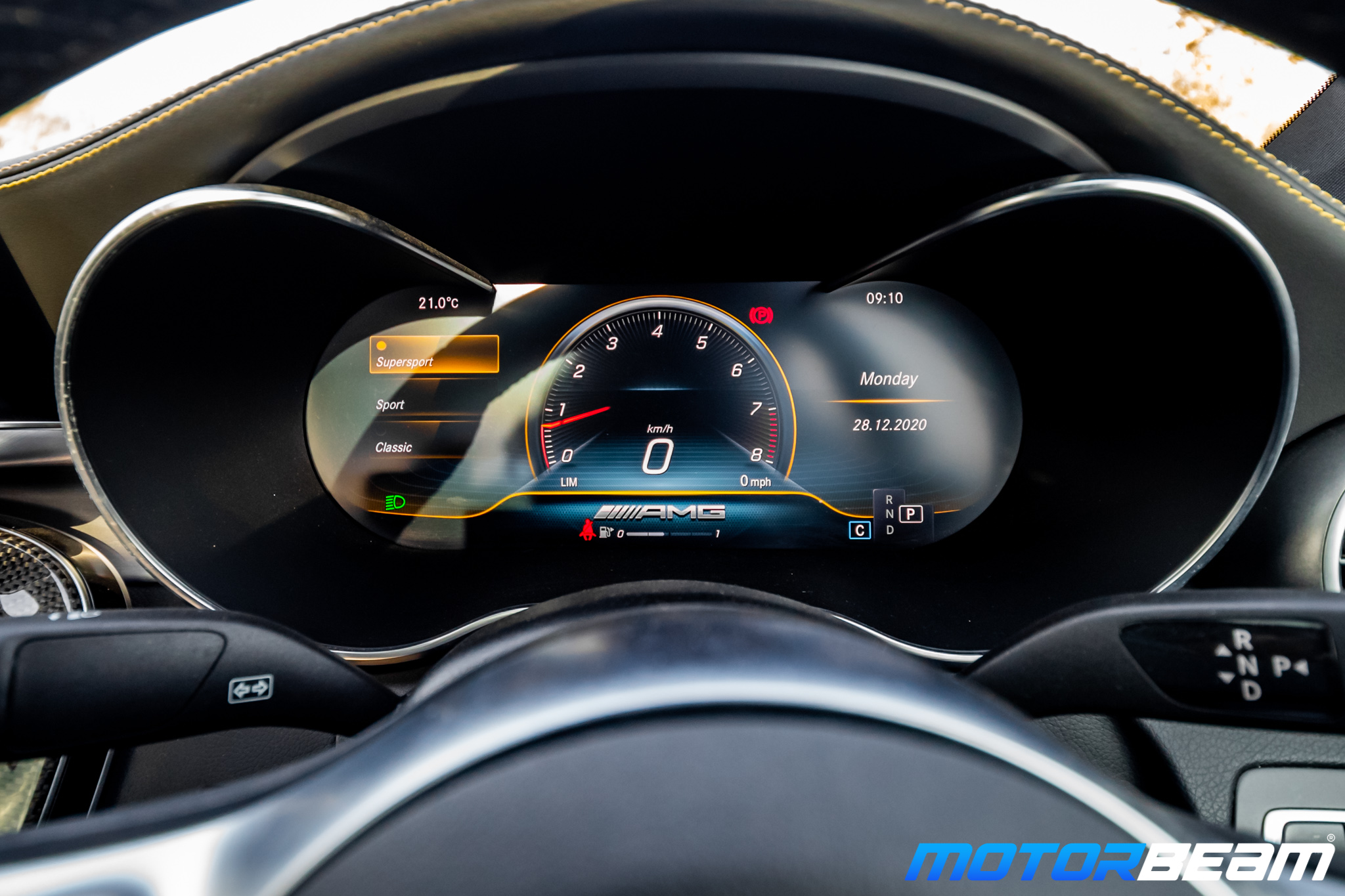 The C63 comes with numerous customisation options driving up the prices by lakhs in no time
Some other noteworthy features include a fully digital instrument cluster, dual-zone automatic climate control, keyless-go, Burmester sound system, etc. All the displays have a very crisp resolution and the Burmester system sounds beautiful but would you really want to listen to music when you have the V8 playing its lovely track? Features like wireless charging, air balance package and climatised seats are offered as optional extras.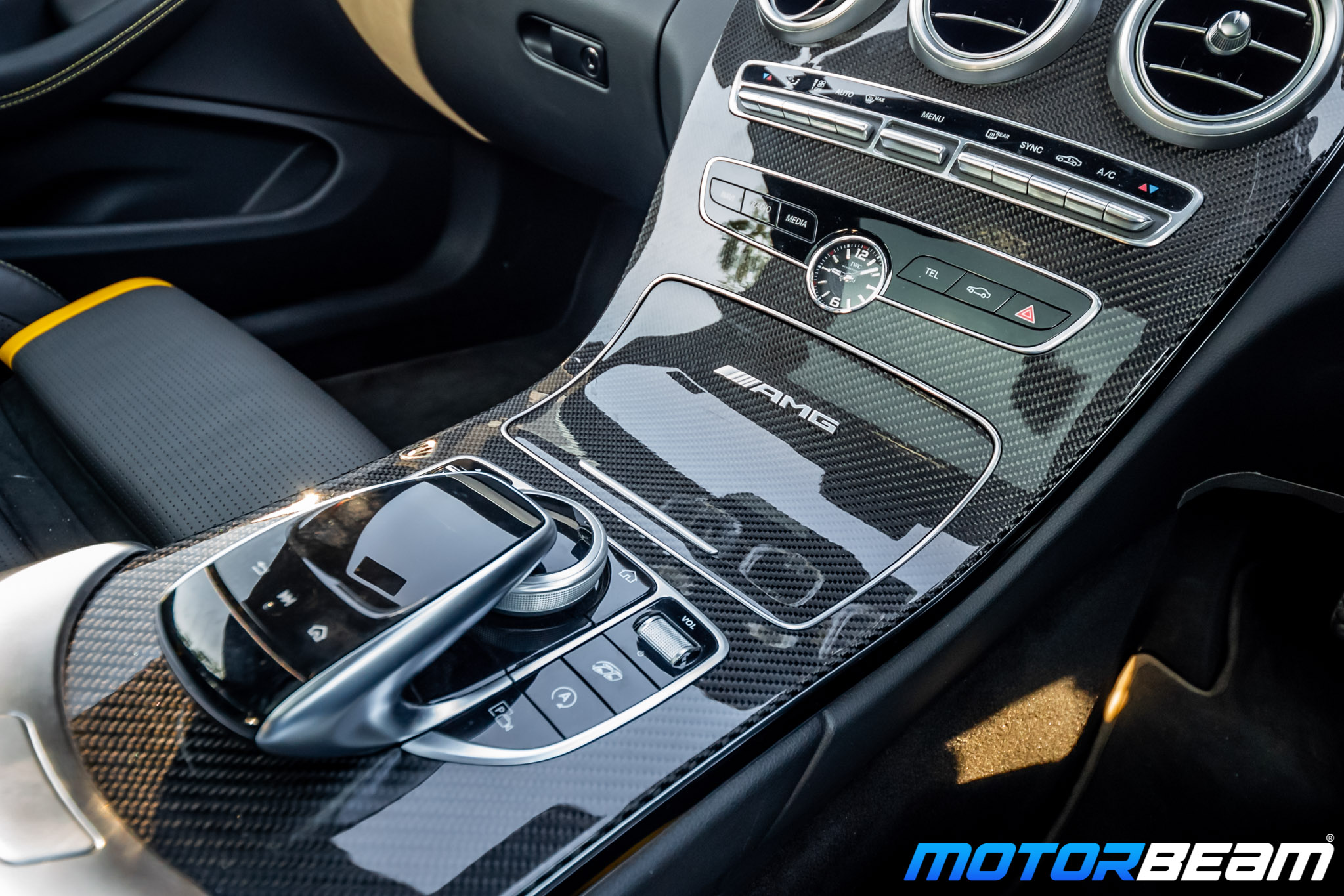 Mercedes offers a number of customisation options for the upholstery and trims and our test car had grey and black upholstery with yellow inlays. A gloss lime wood trim is standard on the centre console while you can opt for other trims like anthracite open-pore oak wood (Rs. 18,000/-), open-pore walnut wood (Rs. 29,000/-) and even a carbon fibre trim (Rs. 1.21 lakh) that was present on our car.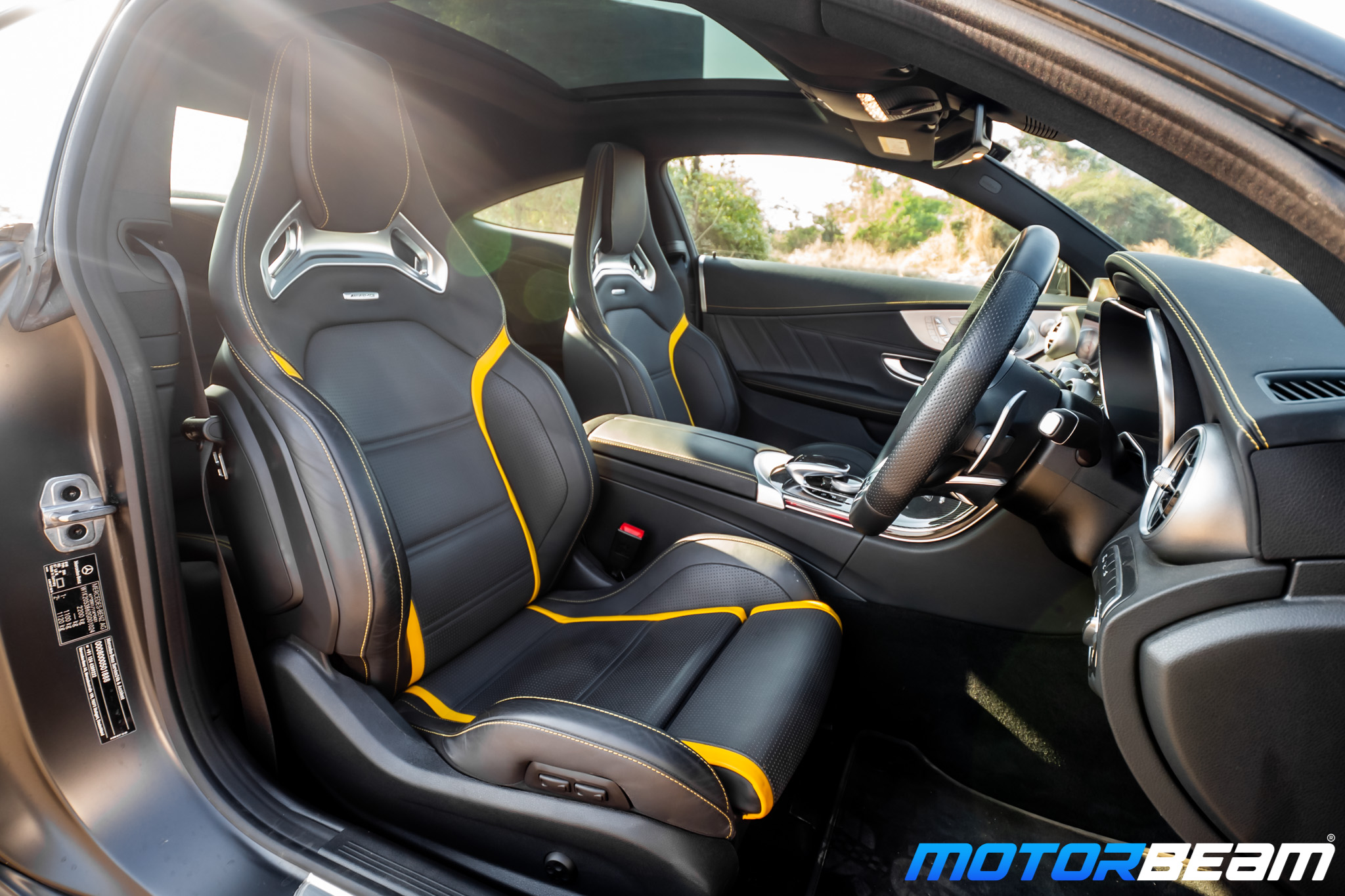 Outstanding build quality with great attention to detail and bespoke materials give you a sense of opulence
The front seats are shaped so well that you just don't feel like getting out after sitting on them. The seats hug you from the sides and there's electric adjustment so that you find the perfect seating position before unleashing all those horses. The seat belts are held back by a locking mechanism which automatically slides forward when you get in the car. Just like every other Mercedes, the adjustment buttons for the front seats are placed on the doors but you can also pull a lever up from behind the seat and slide it forward and this is useful for rear passengers.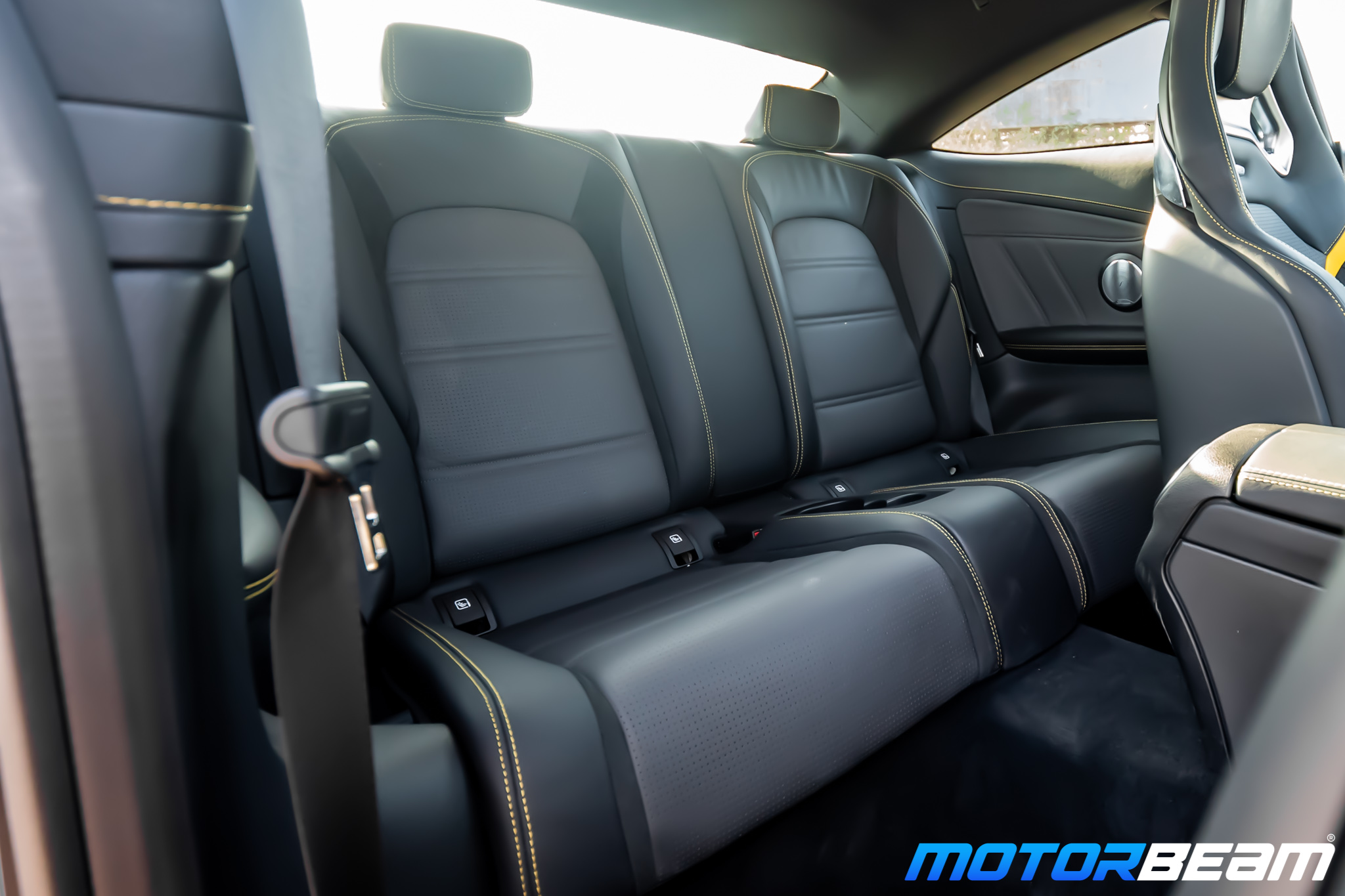 While the front seat does slide ahead, getting into the rear is tight. The rear seat is placed low and there's limited room. Rest assured, the seat is very comfortable and well-shaped but overall space levels are limited and headroom isn't great either. You get some storage spaces in the door pads and a couple of them in the centre console while the boot offers very limited cargo capacity, with most of the space being gobbled up by the spare wheel which is latched onto the boot floor.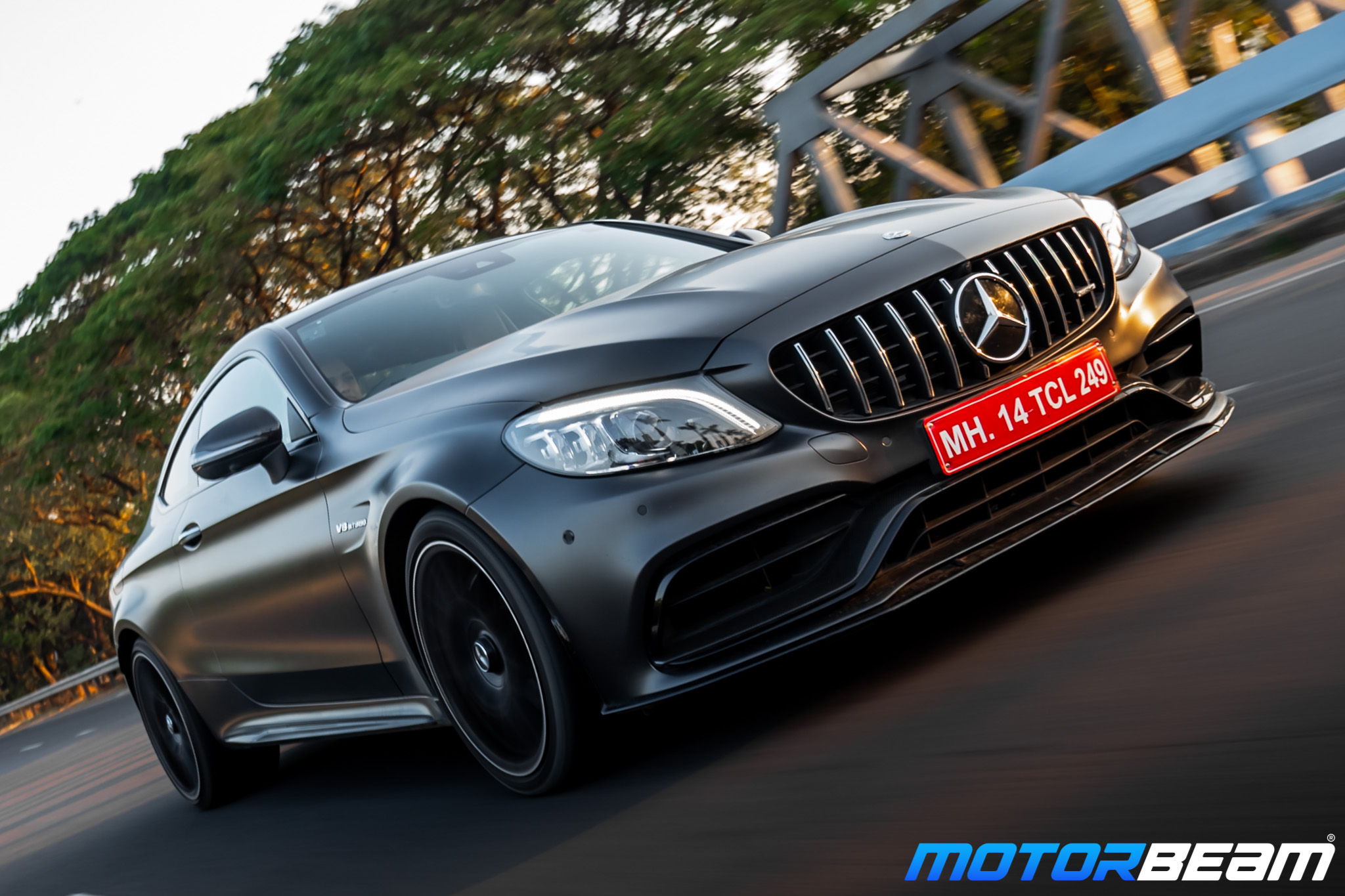 Performance – Finally, let's talk about what lends so much character to the Mercedes-AMG C63 Coupe. Yes, I'm talking about the 4.0-litre V8 Bi-Turbo petrol engine that develops a tremendous 476 HP from 5500-6250 RPM along with a colossal 650 Nm of torque from 1750 RPM. The engine is responsive from the word GO and it actually makes the car feel like a rocket ready to be launched, such is the kind of acceleration that it offers. Use DYNAMIC SELECT to switch through the different driving modes like Eco, Comfort, Sport and Sport+ to experience how each one of them alters the engine, transmission, steering and suspension response. Now one thing to note here is that the C63 is a rear-wheel-drive model, unlike the C43 which gets 4MATIC. Also, the C63S gets an additional Race mode too along with dynamic engine mounts.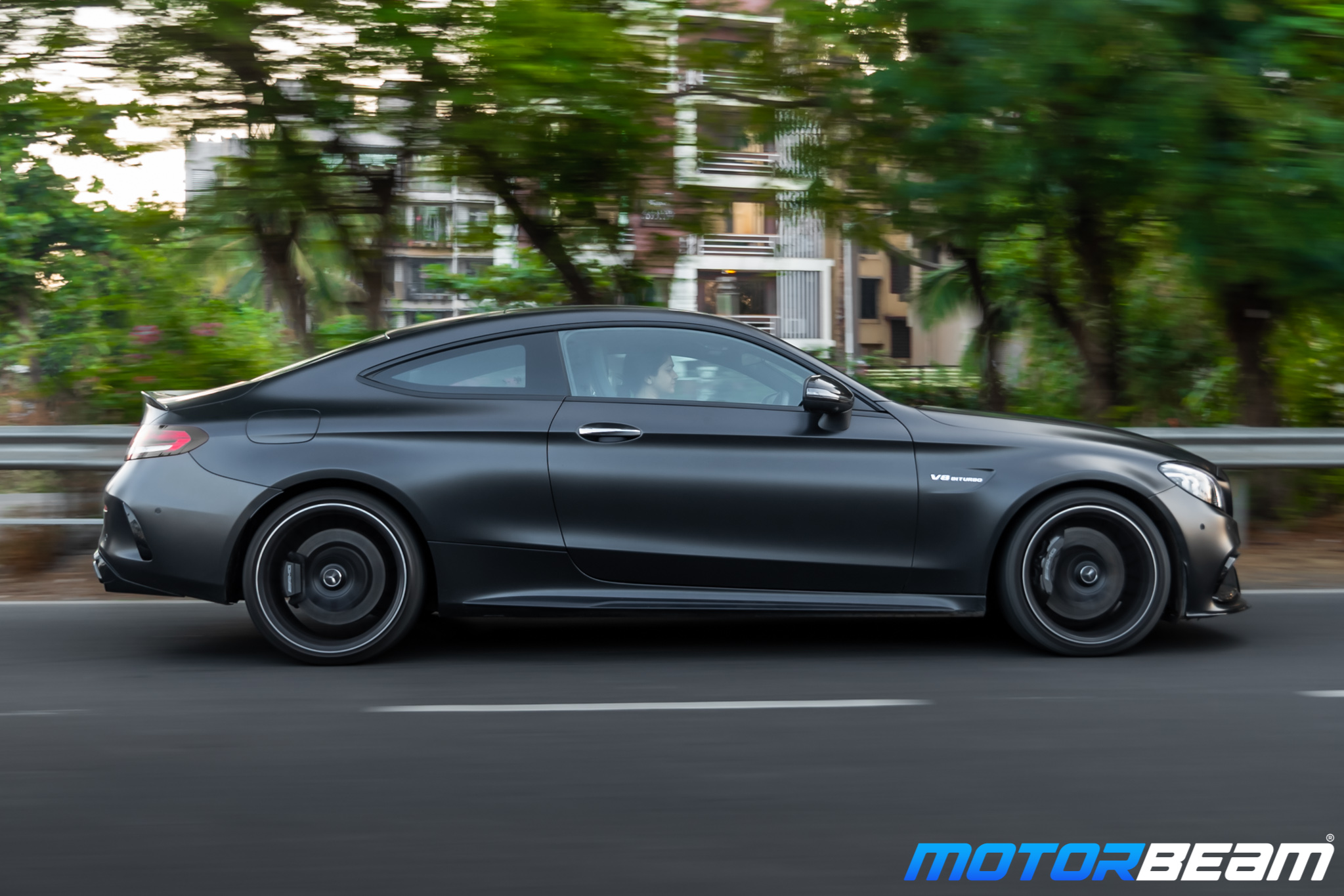 The exhaust not only sounds like a symphony as you near the redline with pops and crackles but also sounds grunty at idle
When you start the car, the V8 settles with a nice burble and while it responds in a very sharp manner to even mild throttle inputs, you get the hang of it after driving for a while and you know when to go easy on the gas. I familiarised myself with the car, found the closest empty & smooth stretch of tarmac, felt grateful for ending 2020 in the driver's seat of the C63 and went pedal to the metal. The V8 came alive, sang all the way to 7000 RPM accelerated towards the end of the year and before I knew it, the car was doing speeds much higher than what I thought it was doing. 0-100 km/hr comes up in a claimed 4 seconds while 0-200 km/hr is extremely quick too.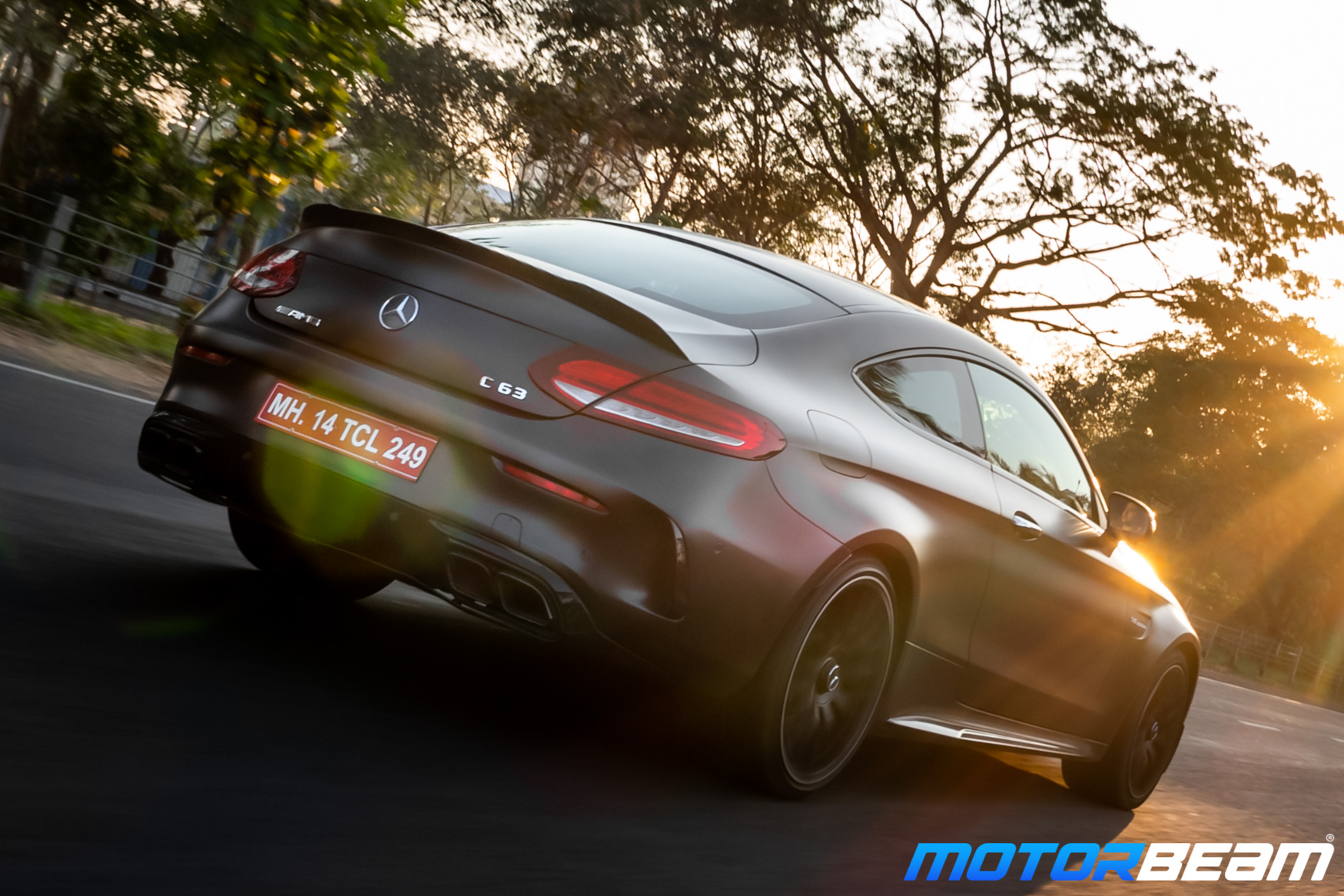 The V8 just screams at high RPMs and the whole experience of meteoric acceleration, the loud symphony of the engine and the stiff suspension holding the car and making every small bump or undulation felt in the cabin is just surreal and something that has to be experienced because words aren't enough to describe it. Of course, all this power comes at the cost of fuel economy which hovers between 3-6 km/l. The 9G-TRONIC gearbox is lightning quick with its shifts and works great irrespective of how you're driving. Another cool feature is AMG Track Pace which shows a lot of telemetric data like acceleration times, lap times, etc. so that you can study these timings and see where's the scope of improvement.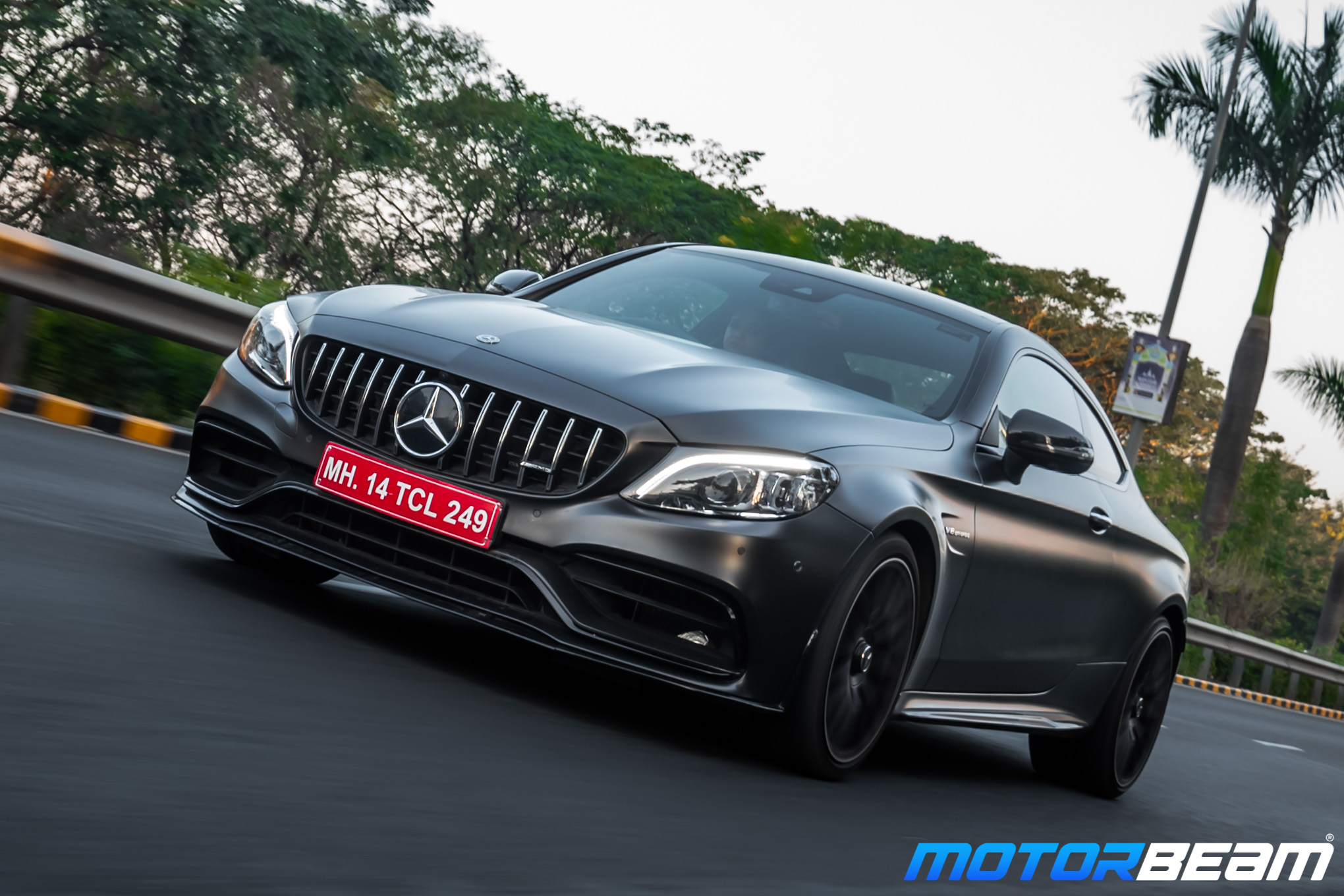 Driving Dynamics – There is no concept of body roll in the Mercedes C63 because the body feels so stable and it just doesn't move around. The ultra-stiff AMG Ride Control suspension holds the car really well but it also ensures that every bump is felt inside the cabin, more so in Sport+ mode where the suspension travels seems to be almost negligible. The vehicle gets adaptive dampers and an electronically controlled LSD. The C63 gets extremely low profile tyres so you have to be super-duper careful on poor roads. The ride quality is very stiff and harsh, typical of almost any sports car.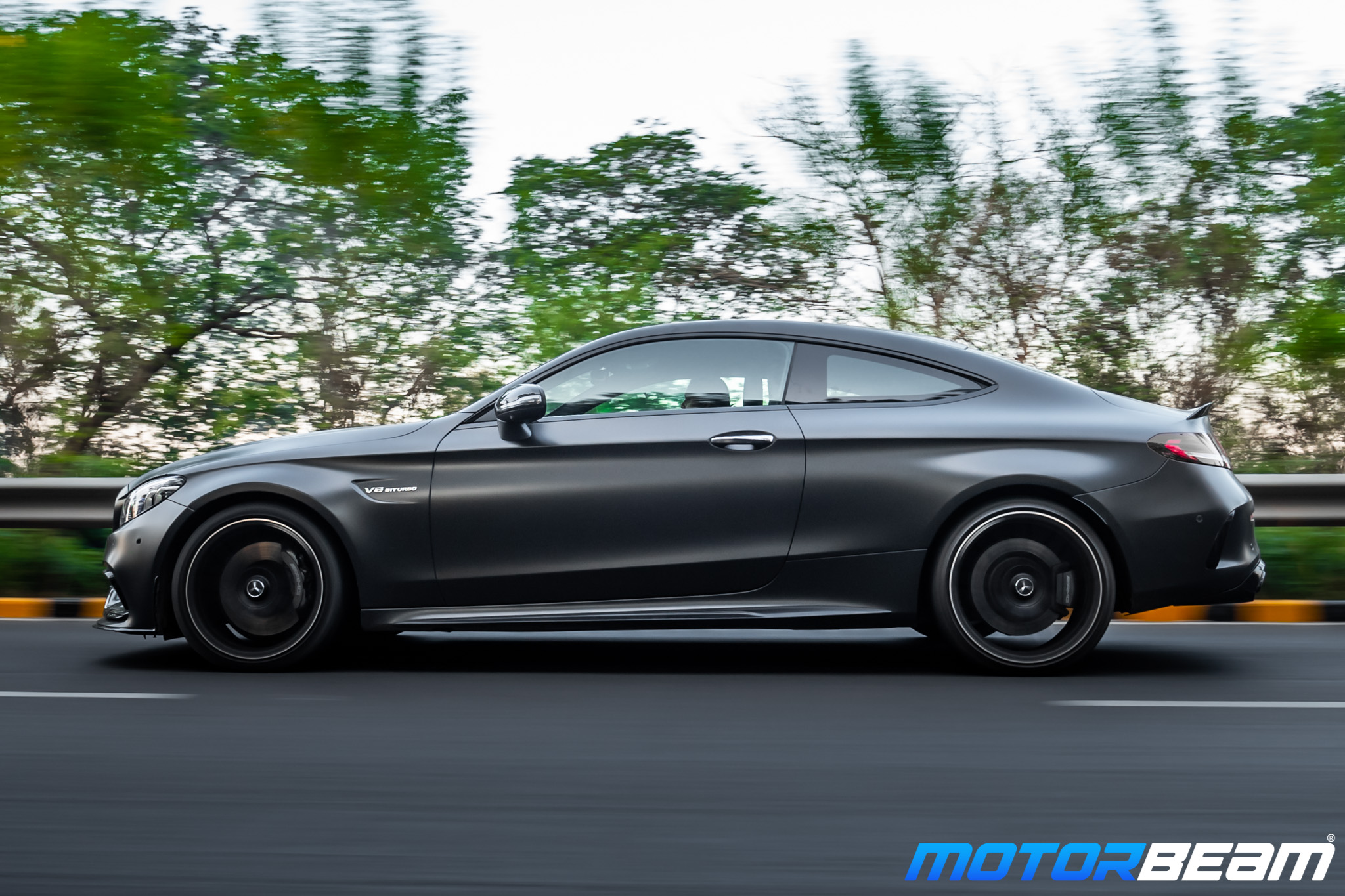 The C63 has virtually no body roll thanks to an extremely stiff suspension setup and very low profile tyres
The vehicle is a beautiful handler and the steering weighs up impressively well at high speeds. It is extremely precise and the brilliant chassis ensures you have oodles of fun behind the wheel. Body control is just fab and this car gets front & rear anti-roll bars while the rear track has been widened by 50 mm. The C63 actually feels sharper to drive than the E63 because of its smaller size.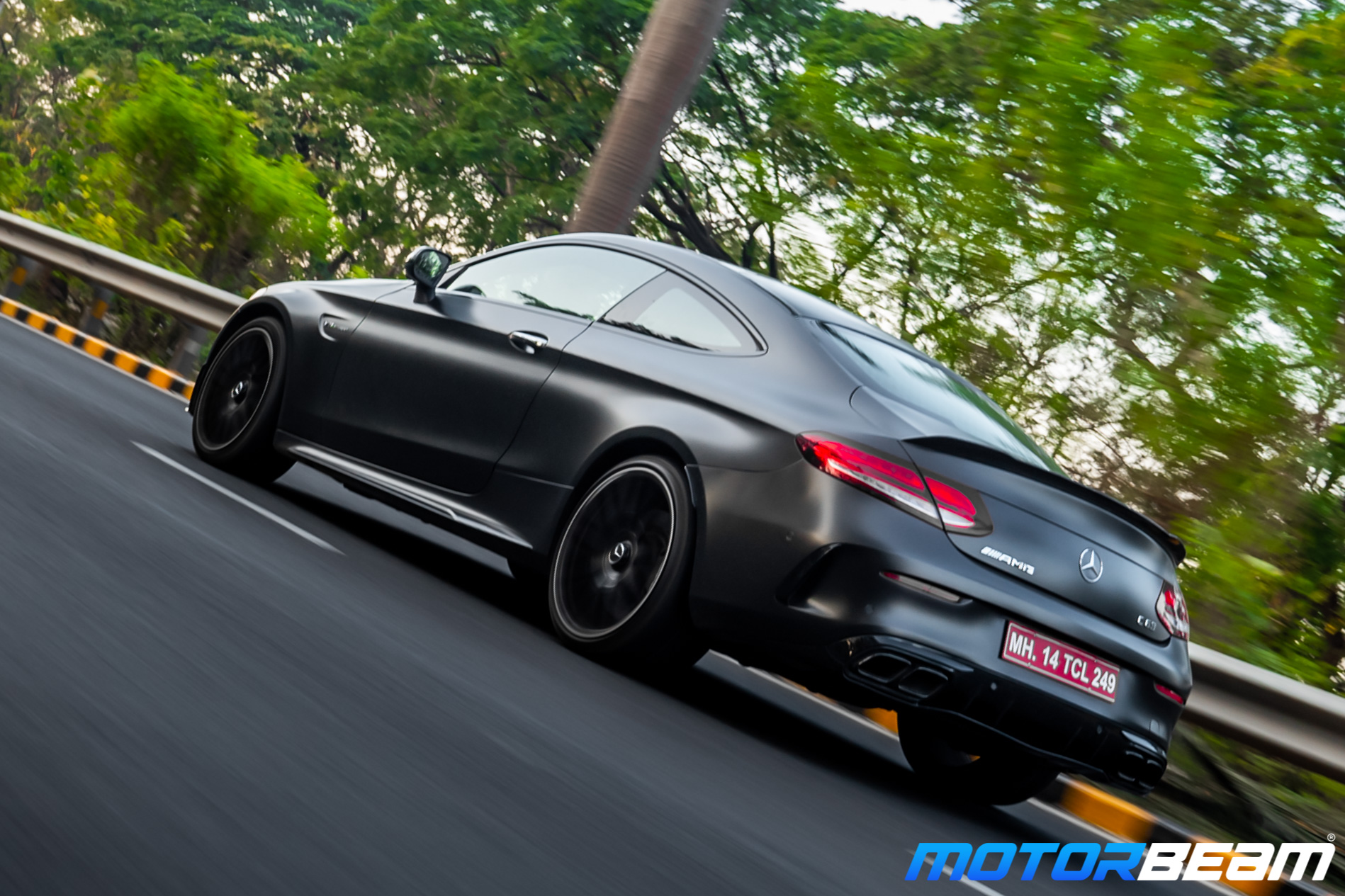 The C63 coupe is actually heavier than the C63 sedan because this has a wider track, heavier doors and some more strengthening which has been done to make this a better handler. It is extremely easy to slide the tail out on this one and the traction control does allow you to have some sideways fun before kicking in. AMG Dynamics makes changes to the differential and torque vectoring. However, this car doesn't get AMG's 9-step traction control which is offered on the C63S. The car gets cross-drilled, carbon ceramic ventilated disc brakes which lend massive stopping power.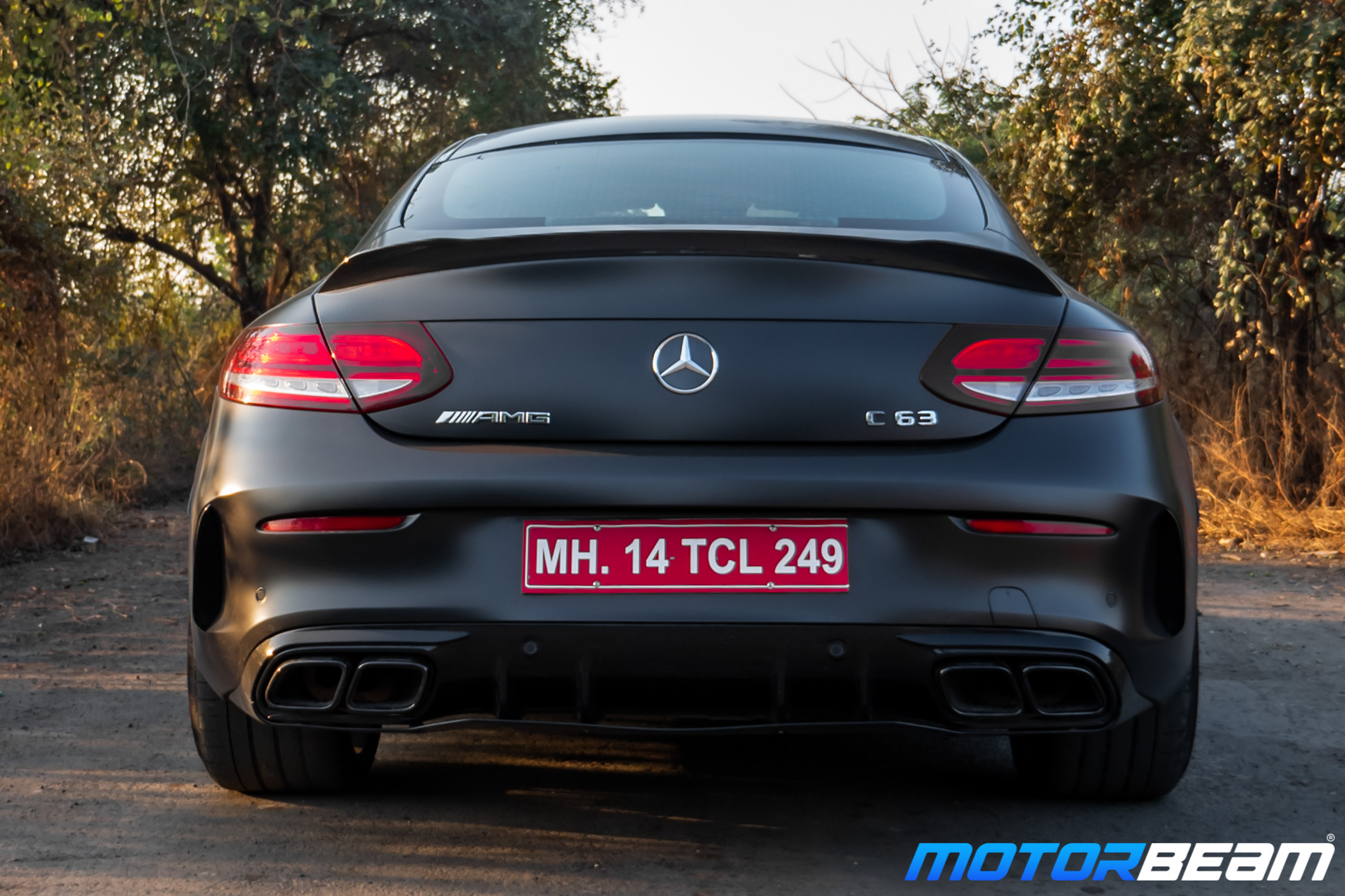 Safety And After Sales Service – Apart from multiple airbags including one for the driver's knee, the Mercedes C63 gets safety tech like Adaptive High Beam Assist Plus, Adaptive Brake Lights, Active Park Assistant with PARKTRONIC and Mercedes' PRE-SAFE system. Some autonomous functions like Blind Spot Assist, Lane Change Assist and Forward Collision System are optional extras. Mercedes has good presence across various cities in India so servicing your AMG shouldn't be a problem. The German automaker also offers Star Ease Compact maintenance packages offering different plans for scheduled maintenance and wear & tear items.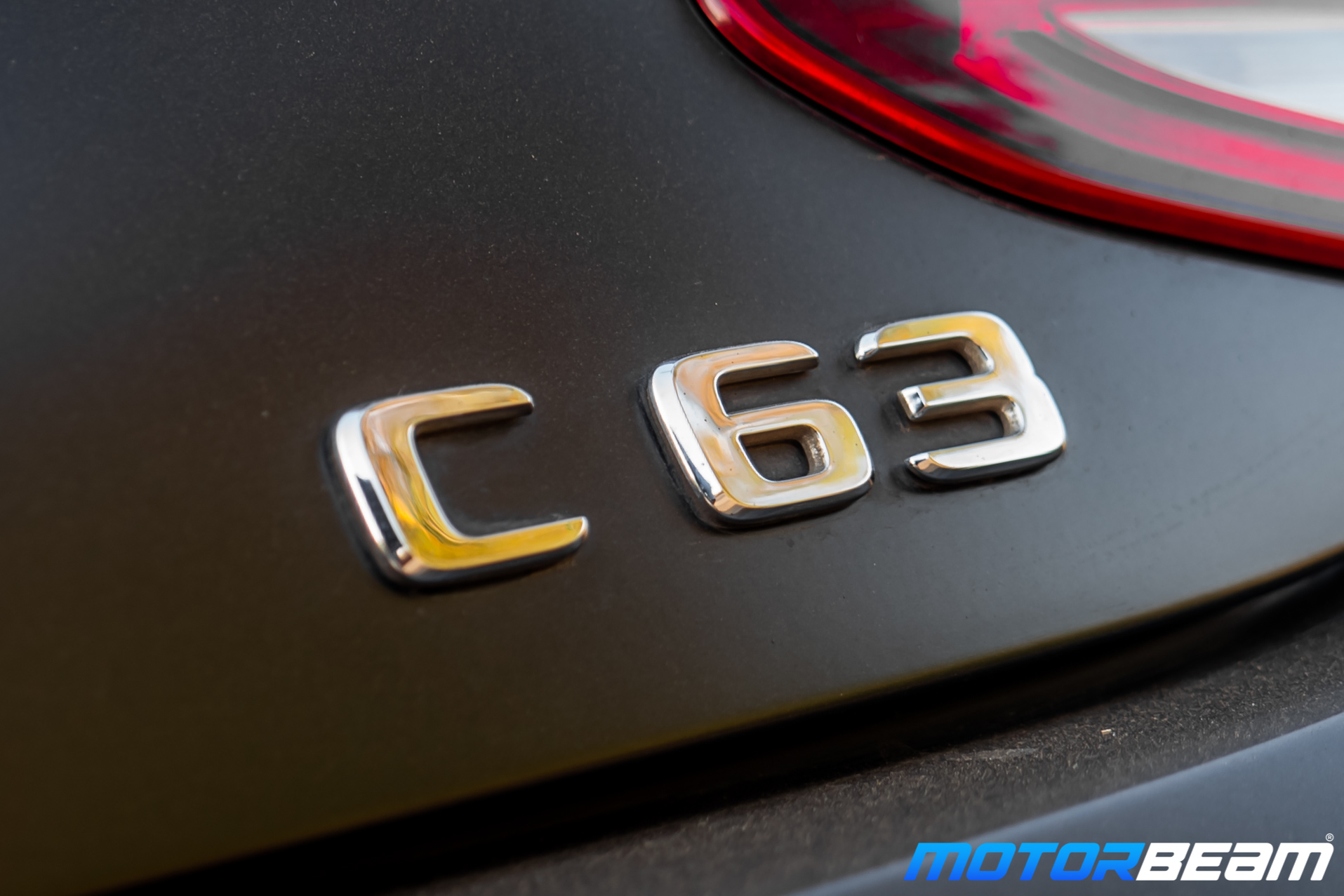 Verdict – The Mercedes-AMG C63 Coupe costs almost Rs. 1.60 crore (on-road, Mumbai) and the cost will go up if you go for any extra options. For this price, you get a sports car that is full of character and oozes of a proper muscle car feel. The C63 will never let you get bored, in fact, it'll always leave you entertained behind the wheel. This car is just too addictive. Addictive in terms of acceleration, addictive in terms of that lusty exhaust note and addictive in terms of the radiant handling that it offers. There are so many things to like about this car that you somehow ignore its shortcomings, which are anyway few and far. Yes, if you spend Rs. 20 lakh more, you get the Mercedes E63 S and BMW M5 and these are more powerful and more practical but if you don't really need a proper saloon, the C63 Coupe makes the cut.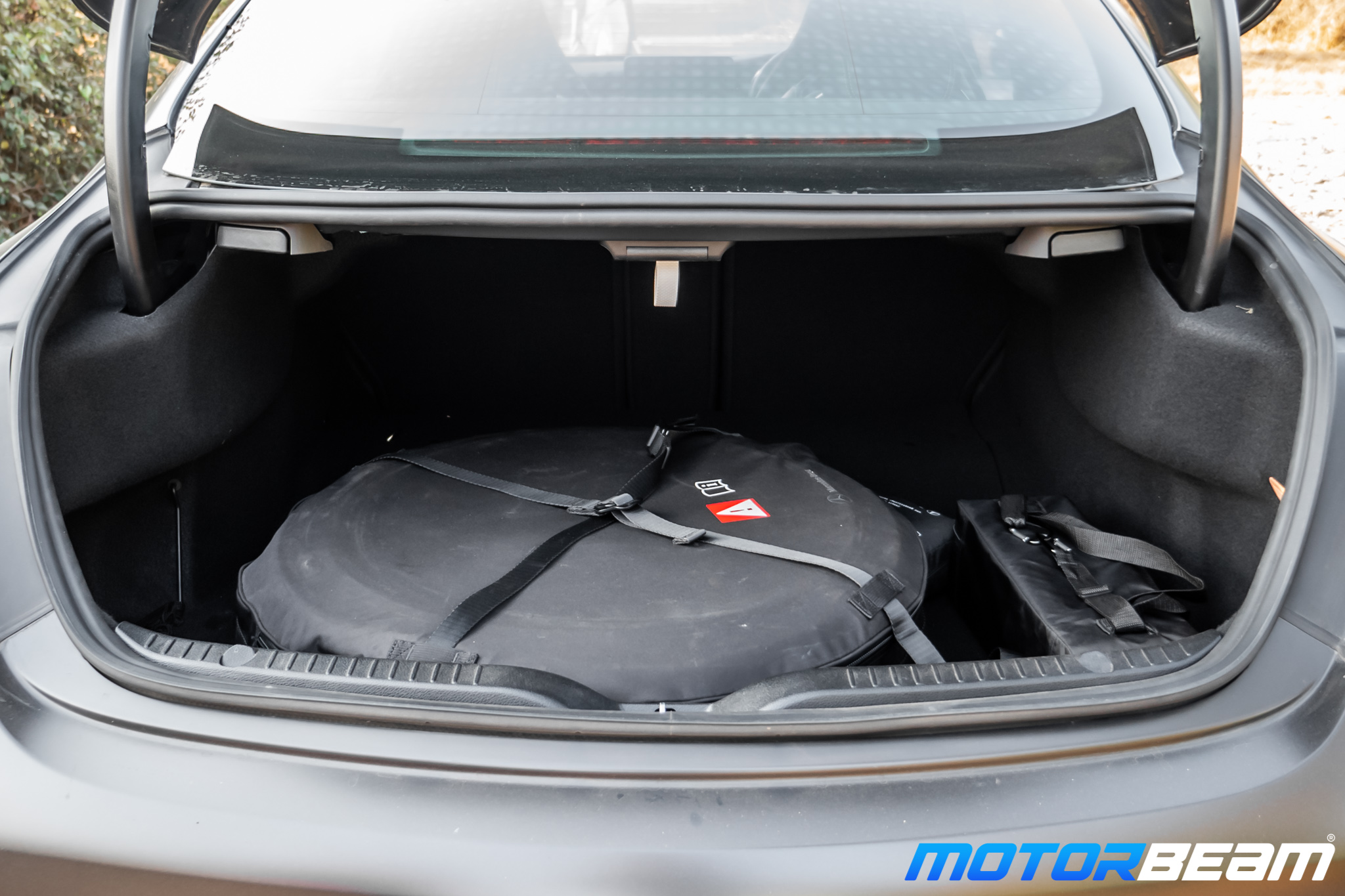 What's Cool
Muscular design with superb road presence
Well built cabin with tons of features
Remarkably punchy engine with crazy exhaust note
Phenomenal ride and handling balance
What's Not So Cool
Rear seat lacks space
Low ground clearance
Stiff ride quality
Alternatives – BMW M4, Audi RS5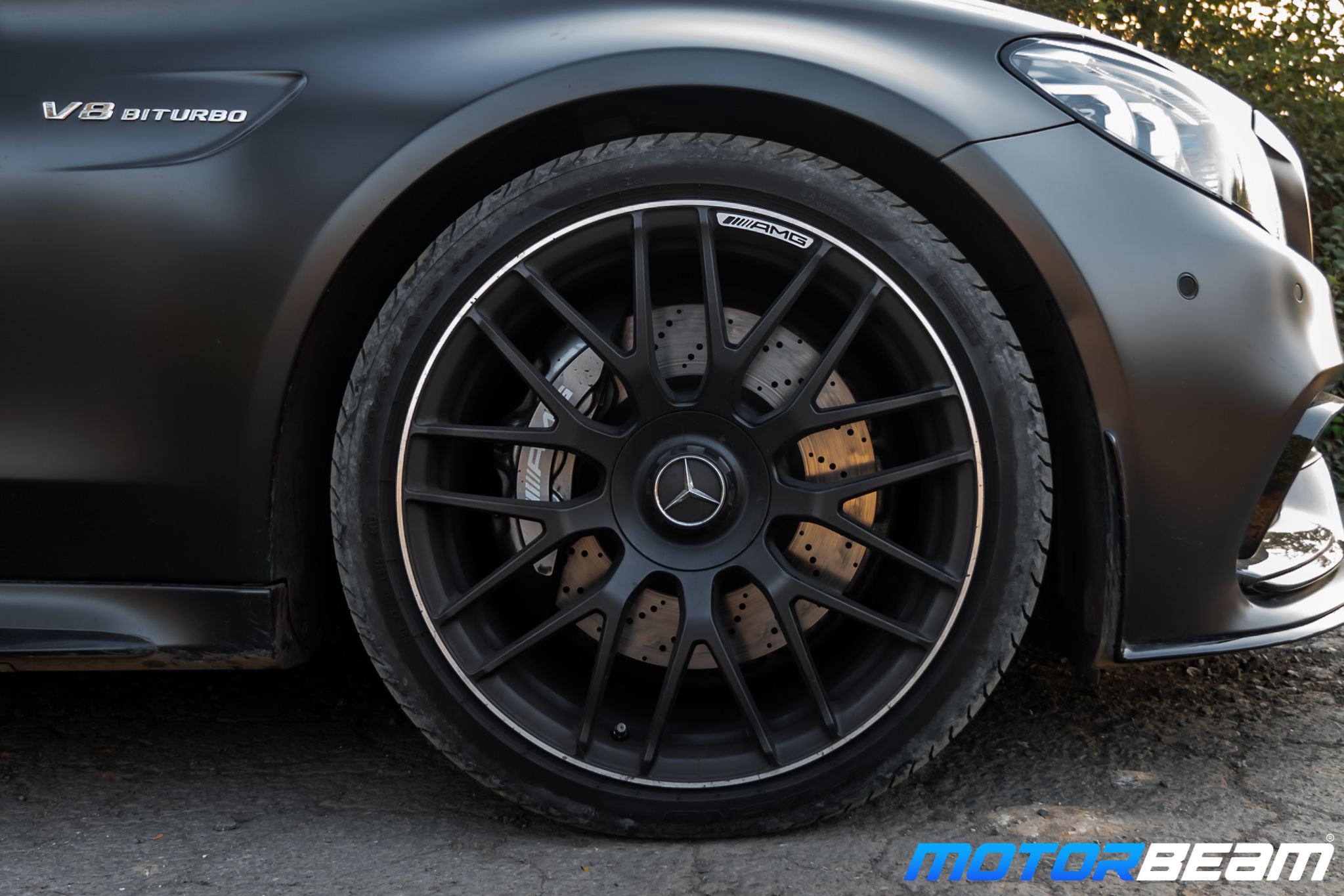 Mercedes-AMG C63 Coupe Specifications
Engine: 3988cc, Twin-Turbo, V8, Petrol
Power: 476 HP @ 5500-6250 RPM
Torque: 650 Nm @ 1750-4500 RPM
0-100 km/hr: 4.0-seconds
Transmission: 9-Speed AT
Fuel Consumption: 3-6 km/l
Fuel Type: Petrol
Tyre Size: 255/35/19 (Front & Rear)
Suspension: AMG Ride Control (Front & Rear)
Brakes: Disc (Front & Rear)
Safety: 6 Airbags, ABS with EBD, Adaptive High Beam Assist Plus, Adaptive Brake Lights, Active Park Assistant with PARKTRONIC, Blind Spot Assist, Lane Change Assist, Forward Collision System
Mercedes-AMG C63 Coupe Dimensions
Overall length x width x height: 4750 mm X 1877 mm X 1400 mm
Wheelbase: 2840 mm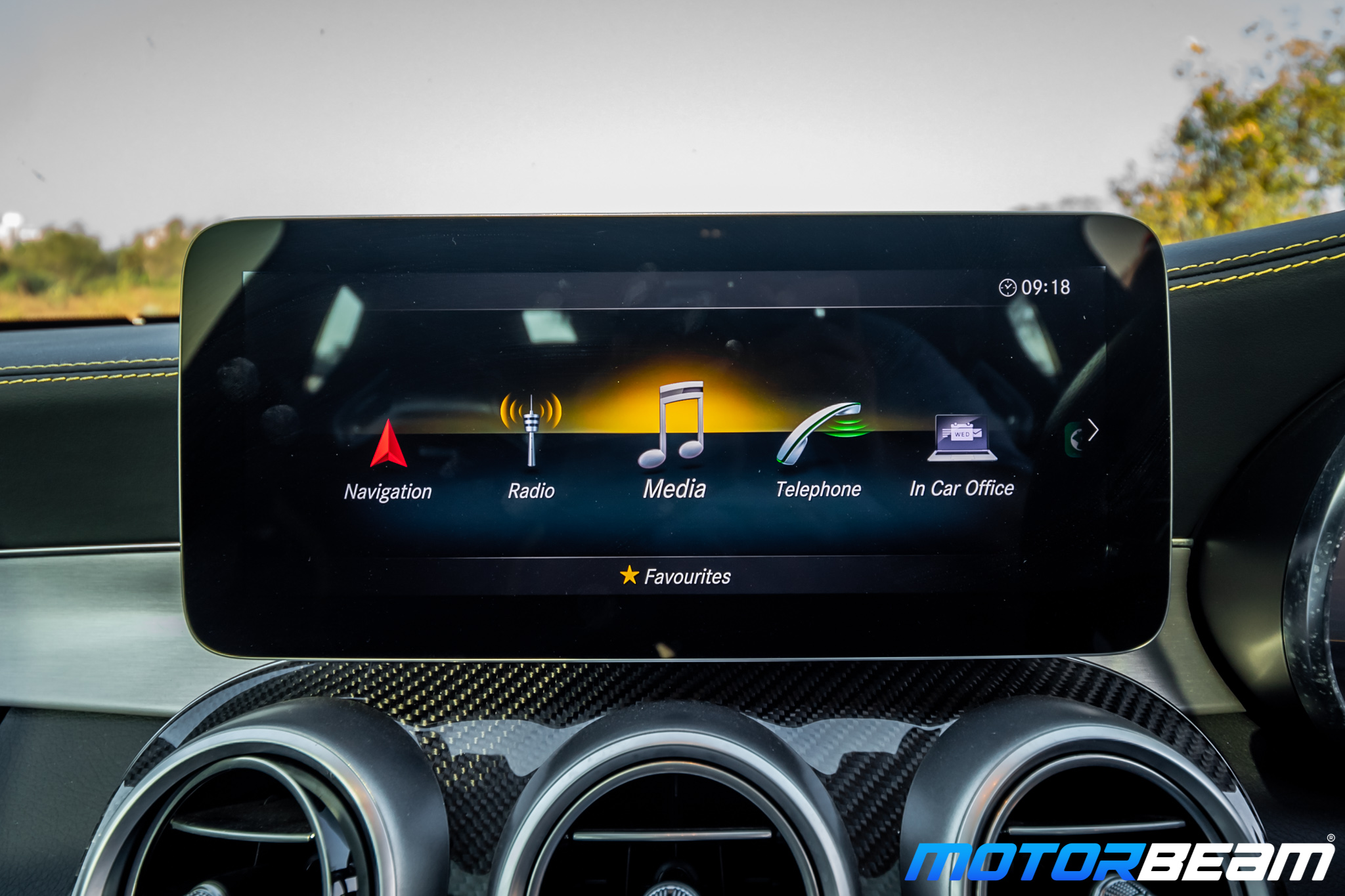 Further Reading –
2019 Mercedes-AMG C43 Coupe Review
Mercedes C300d AMG Line Review
2017 Mercedes C300 Cabriolet Review
2017 Mercedes C43 AMG First Drive Review
2016 Mercedes-Benz C250d Review
2015 Mercedes C-Class Diesel (C220 CDI) Review
2015 Mercedes C-Class First Drive Review