2017 Duke 250 Spotted In India With MRF Tyres, KTM Could Surprise Us
The 2017 KTM Duke 250 small displacement motorcycle has been spotted in a surprising move by the Austrian two-wheeler major.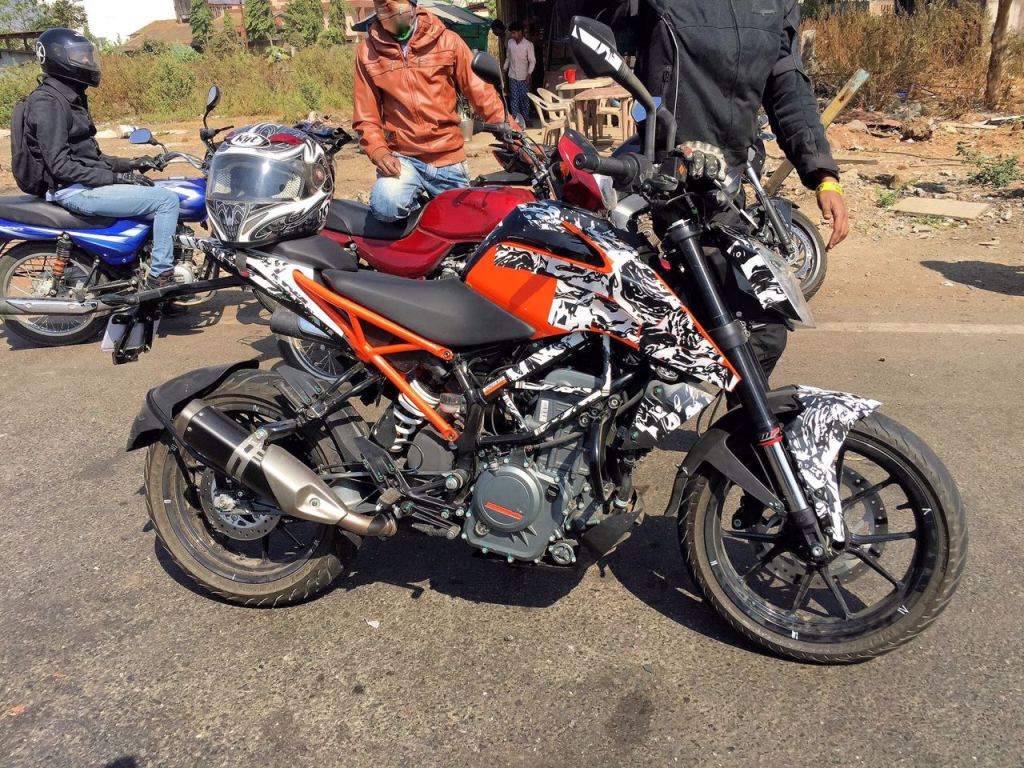 For the European performance motorcycling company KTM, India is a very important market – not just because it is the largest two-wheeler industry by numbers, but also because it has the potential to explode like a pumpkin in some years for the segment where the biking major is a specialist i.e track focused street bikes for affordable pockets. The KTM Duke series and the RC series of bikes are a hoot to ride and look awesome both standing and zooming past. Till now, the KTM bikes were available in only 200cc and 390cc displacement avatars, but it looks like a new member will soon join these machines this coming week.
The 2017 KTM Duke 250, which was at a point of time rejected by the higher-ups to be sold in India, has been spied in all its saree-guard brandishing camouflaged glory, as well as in full production ready avatar in India, right before the launch event of KTM scheduled for 23rd February. The test mule and the production ready model were equipped with MRF Revz-FC1 and Revz-C1 tyres instead of the Metzeler Sportec M5 Interact tyres that are seen on the international model.
Also, ABS was missing from the test mules too and the motorcycles donned the instrument cluster from the outgoing model instead of the Duke 390's modern LCD display. KTM was expected to launch the new 2017 range of bikes in its event this week but the high chance of the 2017 Duke 250 being introduced in India certainly spices things up a bit.
It is also a possibility that the Duke 250 might as well replace the Duke 200 completely. The 2017 KTM Duke 250 gets a bigger heart than the 200 in the form of a 248.8cc displacement. The international spec model draws 31 BHP of power at 9000 RPM and 24 Nm of torque at 7250 RPM from its single-cylinder liquid-cooled engine and we don't expect that to change. If launched, the motorcycle might get a premium price tag, higher than the extremely value for money Duke 200. KTM could keep the Duke 200 as it is, without updating it, making for an attractive entry point to the Orange brand.
2017 Duke 250
– The Indian-spec 2017 Duke 250 has been spied in the wild
– The bike is expected to be launched in India on 23rd February 2017
– If launched, it would be a pleasant surprise as KTM had previously refused to launch the bike in India