Ather 450S Launched, Priced At Rs. 1.30 Lakhs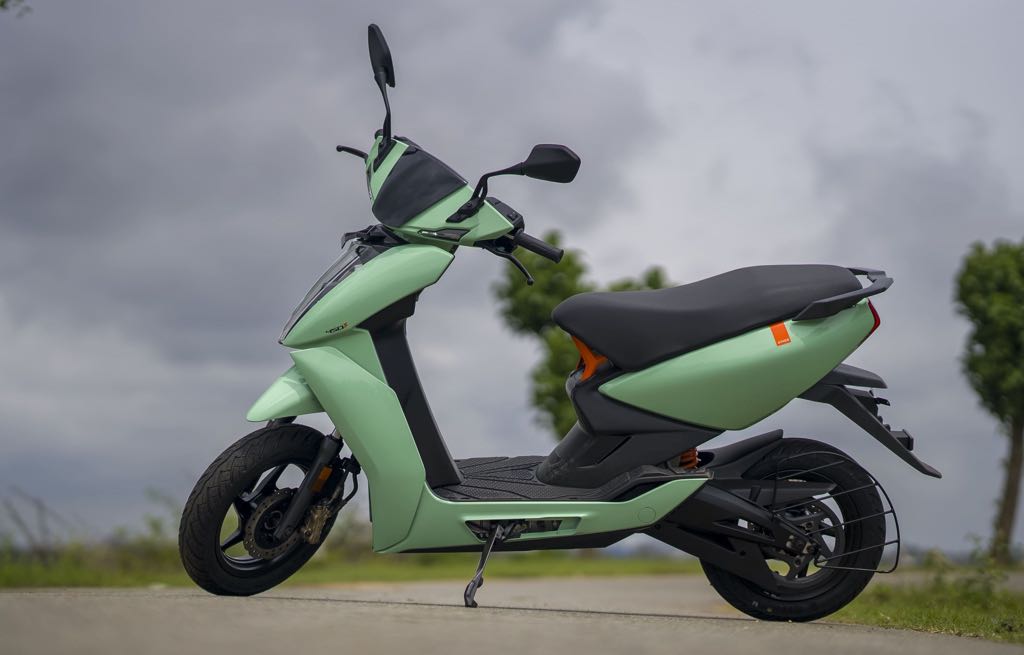 Ather 450S launched, price revealed
Ather 450S is the new entry-level variant of the electric scooter lineup, it comes with a starting price of Rs. 1.30 lakhs (ex-showroom). The electric scooter maker has updated the entire lineup with more features.
The Ather 450S comes with a battery capacity of 2.9 kWh which offers an IDC range of 115 km on full charge. It does 0-40 km/hr acceleration in 3.9 sec and has a top speed of 90 km/hr.
Ather is offering the electric scooter with DeepView Display, new switchgear, FallSafe, Emergency Stop Signal (ESS) and coasting regen, which improves the range by up to 7 percent.
The company claims that the Ather Grid fast chargers will charge the 450S at a speed of up to 1.5 km/min. Recently the bike maker announced that the Ather Grid will not be free anymore, they will charge Rs. 1/min + GST. However, Ather 450 (Gen 1 and Gen 1.5) will continue to get free charging.
The 450X carries over all these upgrades and now also comes with the option to choose between 115 km and 145 km range variants. Both 450S and 450X users have the option to choose the Pro pack over the core configuration, which unlocks Ride Assist, Ather battery protect, AtherStack updates and Ather Connect (free for 3 years).
The 7-inch DeepView Display comes with a 1000:1 contrast ratio, auto-brightness and 18-segment characters. The on-board navigation comes with 18+ directional possibilities, users can navigate even in a complicated 8-way roundabout.
Both the 450S and 450X come with new switchgear with improved tactile feel and two new switch additions, one-click reverse and a joystick.
The new FallSafe feature can detect changes in the scooter's speed, orientation and acceleration when the rider is about to fall over. This feature switches off the motor (to avoid any further movement such as skidding) and activates flashing indicator lights to notify other road users.
Ather has also added new 'Emergency Stop Signal', a regulation in Europe, to the Indian market for the first time. This feature is designed to avoid accidents/crashes in panic-braking situations. When an Ather user panic brakes at a speed greater than 50 km/hr, brake lights blink to give riders behind a visual cue/ warning.
To improve the battery range, the 450S comes with coasting regen feature that slows the vehicle down while at a steady coast (no acceleration and no manual braking) and recycles the energy back into the battery. They claim it will lower brake pad wear and improve the range by up to 7 percent, depending on modes.
The new inbox-to-scooter feature delivers destination addresses from other apps (like WhatsApp/ Telegram/ Instagram DM etc.) directly to the Ather dashboard. To activate this feature, users must have the Ather app installed, and the location shared must be a Google Maps link only.
The updated trip planner will also provide the option to select riders' own preferred Ather Grid charger and the trip will be planned keeping in mind your preferred chargers. Further, trip planners can now help plan the trip and suggest appropriate Ather Grid chargers for intercity trips too.
Ather has also made changes to the design of the rear mud flap to reduce the splatter on the pillion while riding on dusty or muddy roads. It also provides additional protection for the rear mono-shock and brake callipers from muddy conditions.
Deliveries will start in a phased manner, starting with 450X with 2.9 kWh battery by 3rd week of August, the 450S by last week of August and 450X with 3.7 kWh battery in October.